FOCUS 2022 welcomed a record number of participants and countries to its 8th edition
PRESS RELEASE: London, 19th December 2022
Creative screen professionals from a record 120 countries participated in the eighth edition of FOCUS The Meeting Place for International Production. Over 3500 delegates, exhibitors and sponsors enjoyed two packed days of conference sessions and networking events at the Business Design Centre London (December 6-7), followed by two days of virtual meetings and speed networking on the Digital Platform (8-9 December), extending the opportunities to connect.
Attendees were able to meet (in person and online) with 205 exhibiting companies, including international film commissions, agencies, film-friendly locations and production service companies, offering filming incentives and production solutions for all types and sizes of project.
65 conference sessions and exhibitor presentations took place at the live show, featuring 192 expert speakers. Keynotes, panels, and workshops addressed the key talking points of 2022, ranging from film financing, co-production, diversity and inclusion, mental health, new talent, Web3, AI, sustainability, virtual production, convergence of film & games, location filming, film festival strategy, working with sales agents, global incentives, what the streamers are looking for and much more! The Conference programme was presented in association with media partner Variety. CCS rights Management was the new Content sponsor for this year's edition.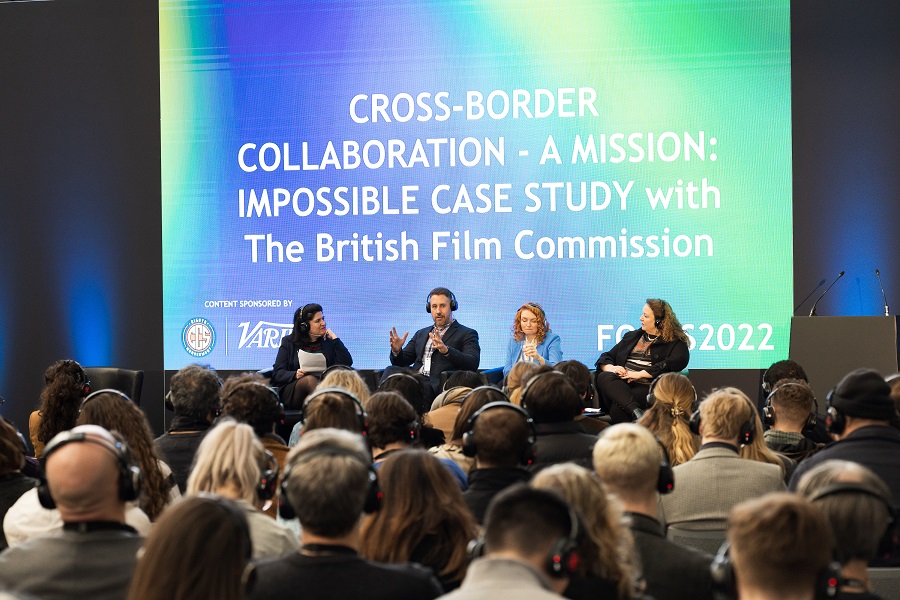 The conference programme was delivered in conjunction with a wide range of partners including Pact, PGGB, BFI, British Film Commission, ScreenSkills, Advertising Producers Association, UK Screen Alliance, Directors UK, LMGI, MediaXchange, Film London, Stage 32, The World Trailer Awards, BAFTA, Producers Without Borders, Harbottle & Lewis, She Says, The Key Location, ITV, UK Global Screen Fund, Olsberg SPI, The Film & TV Charity, David Reviews and Filmmakers in Ukraine. FOCUS also partnered with Straight 8 shootout for the world premiere screening and awards-giving for their super-8 challenge.
There were a plethora of in-person networking events taking place throughout this year's event, including the FOCUS Welcome Drinks sponsored by NEOM, Producers' Brunch with Variety and Pact sponsored by CCS Rights Management, David Reviews Reception sponsored by Film in Cyprus, Location Managers' Breakfast sponsored by Sao Paulo Film Commission, Producers without Borders Lunch sponsored by Quebec Film & Television Council & SOS Event Logistics and Location Managers' Xmas Drinks sponsored by Location One. There were also a wide range of receptions hosted by international partners and delegates were able to meet at the busy 2 In Tents Bar.
FOCUS 2022 culminated with the exclusive makers and shakers Awards at BAFTA, celebrating excellence in global production, presented by makers magazine and The Location Guide, in partnership with Radisson Hotel Group.
We were thrilled to be back in full force with a jam-packed two days of inspirational talks and intense networking .
FOCUS Managing Director Jean-Frederic Garcia said "We were thrilled to be back in full force with a jam-packed two days of inspirational talks and intense networking at the Business Design Centre London and delighted to welcome even more participants – both live and online - from all sectors of the creative screen industries. Many thanks to the Content Advisory Board, all our speakers, exhibitors, partners and sponsors and we look forward to seeing everyone again for FOCUS 2023."
FOCUS returns to the Business Design Centre, Islington, London on 5/6 December 2023 for the ninth edition. More info at tlgfocus.com.

For more photos, go to our Facebook Page