Spcine set to host location managers breakfast with LMGI at FOCUS 2022
São Paulo's film commission Spcine is set to host the location managers breakfast with LMGI at this year's FOCUS. This event will take place on the first day of FOCUS, 6 December at 10:30 am.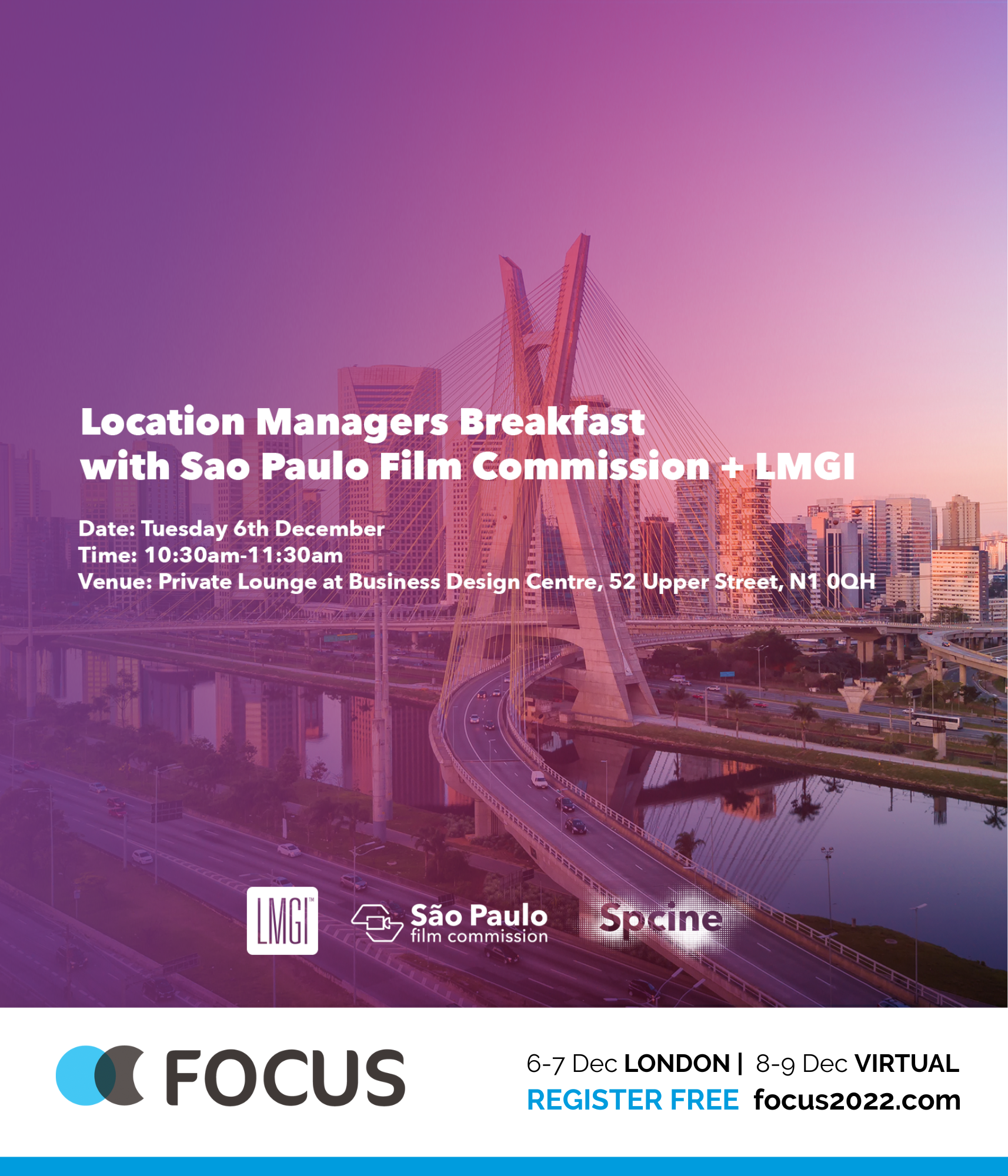 With a newly launched cash rebate, the first of its kind to be launched in the region, and a reputation for being a go to film destination both for its landscapes and workforce, São Paulo is a film industry worth paying attention to. "São Paulo has established itself as one of the main cinematographic centers in Latin America and now we are working to provide the necessary support for the city to continue growing through film," commented Viviane Ferreira, President-Director of Spcine. "Spcine´s goal is to acknowledge and stimulate the economic and creative potential of the audiovisual industry in São Paulo and its impact in the cultural and social scope. Ferreira added: "The company is an initiative of the City of São Paulo, through the Municipal Secretary of Culture. In 2021 São Paulo saw a 175% increase in productions from streaming platforms compared to 2019. We are currently hosting many projects from Netflix, Amazon Prime Video, Disney+, HBO Max, Paramount+, Discovery+, etc. With that in mind, Spcine is now leading a number of initiatives to increase the qualified workforce available to meet the growing demand from international companies."
Luiz Toledo, Spcine's director of investments and strategic partnerships commented: "This past year we participated in several international festivals and market events, showcasing the city´s audiovisual projects, developing numerous partnerships and sharing in different conferences and panels São Paulo´s experiences and successes. Spcine's participation in Focus is a great opportunity for the United Kingdom to get to know more about São Paulo's film industry and São Paulo's creative economy, which is currently holding many interesting investment possibilities, in sound stage infrastructures for example. In this edition of Focus, Spcine will have a booth, where anyone will be able to visit us and hear more about our programs. Also, we are going to hold a breakfast dedicated to UK location managers in partnership with the Location Managers Guild International (LMGI) where we will all be able to get together, network and discover more about this one-of-a-kind location. We are very excited for FOCUS and ready to schedule meetings and answer any questions about our work."
Ferreira concludes: "Global projects that were filmed in São Paulo include the Wachowski sisters' Sense8, and Black Mirror, starring Anthony Mackie. Spcine was also responsible for the first international production incentive in Brazil, the Cash Rebate program, which was launched last year and was a big success, all the available resources were exhausted in 24 hours. We are opening the second edition of the Cash Rebate program for project submissions in the first week of December. The second edition will be much bigger: the budget was increased fourfold in comparison with last year´s edition, to almost USD8 million. With the unprecedented partnership between the City of São Paulo and the State of São Paulo, it is the largest cash rebate in Brazil."
Meet Spcine at FOCUS 2022: The Meeting Place for International Production where attendees are given the opportunity to connect with potential partners from every continent. This year's event will return to the Business Design Centre from 6-7 December and online 8-9 December. Register here for a FREE delegate badge.